City Garage Door Services can fit many different designs of automatic garage door systems to meet your requirements for automatic sectional garage doors and automatic up and over garage doors. They can include the following features:
Double-skinned insulation
Lip seals on the frame
Frost-proof floor seal
Stainless steel frame base
Triple safety extension spring assemblies
Operator with automatic cut-out system
Angular frame interference protector and steel ropes arranged inside
Anti-pinch inside and out.
Automatic Door Operators – Safety and Convenience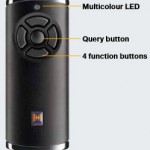 Let's face it, no one likes to get out of their car in windy or rainy weather or in the middle of the night, just to open the garage door! With garage door operators, supplied and fitted by City Garage Doors, you will always have a clear path into your garage, as you can open the garage door quickly, conveniently and safely from your car using a hand transmitter.
With the fast, convenient NRG Black Edition, the Hormann SupraMatic or the inexpensive Hormann ProMatic, an automatic garage door operator from City Garage Doors, offers innovative operator technology. See the Hormann hand transmitter colour range…
NRG Blackedition Garage Door Operator
The new Blackedition 800Nm Garage Door operator by NRG is compatible with a variety of Teleco transmitters, wall switches and keypads offering more choice and more control.
The Blackedition features Soft Start and Soft Stop meaning the garage door will open and close quietly and smoothly.
Safety is at the heart of the Blackedition and as well as a manual release system, the built in obstacle detection will securely stop the door if it encounters an obstacle, giving you peace of mind. Click here to see a .pdf information sheet (599kB)
Hormann Promatic Garage Door Operator
This good value Promatic garage door operator features the same proven Hormann technology as all Hormann premium operators. This guarantees reliable function at an attractive price. The standard Promatic garage door operator normally using mains electricity, but, even in a garage without a mains connection, you can enjoy the comfort  and convenience of the ProMatic Akku which makes this possible. Easy to transport, it can be recharged in a matter of hours, or conveniently via the optional solar module. The Promatic is ideal for a maximum of 12 door opening and closing cycles a day, at around 14 cm/s.
Hormann Supramatic Garage Door Operator
This combination of speed and convenience is fascinating. Your sectional garage door opens faster and you can drive directly from the street into your garage. The SupraMatic has many added functions, such as being able to switch the lighting on and off with your hand transmitter, and the convenient option of an additional opening height to ventilate your garage. An operator cover made of brushed aluminium also provides the SupraMatic with a very elegant appearance
This supra-fast operator is ideal for a maximum of 50 door opening and closing cycles a day, at a speed of around 22 cm/s. You can enter faster and more safely with the SupraMatic operator when combined with a Hormann sectional garage door. An opening speed up to 50 % faster means more safety and less stress on high-traffic streets.
You no longer have to go out in all kinds of weather to check that your garage door is closed. At the press of a button, the colour of the LED on the HS 5 BS hand transmitter indicates the position of the door. If required, another push of a button* closes the door.
Automatic Safety Cut-out
The reliable automatic safety cut-out securely stops the door if it encounters an obstacle. For even more protection and safety, we recommend fitting a non-contact photocell. This is a standard feature in the Hormann SupraMatic P operator.
Anti-Lift Kit
Burglars have a tough time when it comes to Hormann automatic garage doors: When the garage door is closed, the door security kit automatically engages in the guide rail stop, immediately locking and securing it against forced opening. This lock is purely mechanical and in contrast to operators from other manufacturers, effective even in the event of a power failure.
Soft Start and Soft Stop
Your door opens and closes quietly and smoothly. The start and stop phases can be individually set for your garage door. This protects your garage door, allowing you to enjoy it for years to come.
Tested safety
Hormann garage door operators are perfectly matched to the sectional garage doors and have been tested and certified by TÜV Nord in accordance with the TTZ directive "Break-in resistance for garage doors".
Why not call today on 0800 246 1191 (01246 912102 or 0115 772 2142) and speak directly with our experts who can book your FREE NO OBLIGATION ON-SITE SURVEY AND QUOTE.